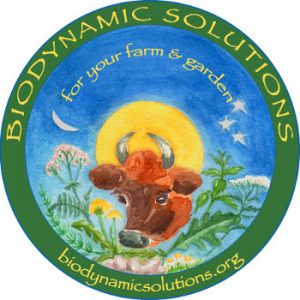 "Your combination of good grazing practices and the the use of your Biodynamic Preparations are really significantly improving the quality and vitality of your pastures and hay fields into the top ten fields that I have seen in New Hampshire." 
  — Sarah Flack, Grazing Consultant and author of  The Art and Science of Grazing
Our Biodynamic Preparations 
Our Preparations are hand-crafted from on-farm and local materials.
For your compost pile use the Biodynamic Compost Preparation Set.  The other Preparations are used as garden and field sprays  See our Storing and Using page on amounts and how to use the Preparations.
Our Packaging 
Our packaging is 100% compostable made from tree waste. We searched for acceptable packaging materials and have found the best.  We could never send out these cosmic materials in anything else, certainly not plastic.
Ceramic crocks of the Biodynamic Compost Preparations, Biodynamic Compound Preparation and Horn Manure are stored in a wooden box and surrounded by peat until they are ready to be sent to you.  Then we place the unit of Preparation in a compostable bag, seal it and put a compostable label on it.  Each is once again surrounded by peat in a recyclable cardboard box and shipped to you. Silica and Equisetum are placed in recyclable packing.  This takes extra time, but we feel that it is very important to package these cosmic products to retain their vitality until you use then.
If you are unable to use the Preparations upon receiving them leave them in the peat and cardboard box and place it in a dark, cool place.
Shipping
We ship via USPS in Flat Rate Boxes in order to get the Preparations to you efficiently and in the most economical way.  The minimum shipping cost is $15 in a Medium Box.  This is due to shipping our Preparations in boxes surrounded by peat.  If your order requires a Large Box(es) we will notify you of the additional shipping costs.  If you are not ordering Compost Preparations your order may fit in a Small Box, in which case we will put a postage refund check in your order for the difference. Or contact us and pick your Preparations up at our Farm with a $3 handling charge.