Quality Biodynamic Preparations
Made on our New Hampshire farm.
Compostable Packaging
Shipped in peat to preserve vitality.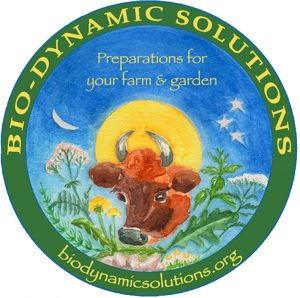 "I have been using biodynamic preparations for years.
Your preparations, compostable packaging and customer
service are the best!  THANK YOUfor all that you guys do;
having a trusted source for the preps is invaluable."
– C. Freeman, Parker, CO
Are You New to Biodynamics? 
There is lots of information for you on our Frequently Asked Questions page.  If your questions are not answered there, please contact us.  We want to support your efforts to heal the land for which you care and the people who eat the food you grow.
Our Biodynamic Preparations 
We handcraft quality Biodynamic Preparations on our certified organic, 100% grass-fed dairy farm, Callie's Creamery.  Almost all of the materials in our Preparations are sourced on our farm or are locally harvested.
Our experience as farmers has convinced us that making Biodynamic Preparations on a working farm infuses them with a vitality that is unmatched.  Milking cows, farm chores, making yogurt, and tending our gardens are all a part of our farm rhythm and making the Preparations are woven into and enrich that rhythm.  We have been doing so for over two decades.  It is with happiness that we now share them with you.  May your farm and gardens be healed and enlivened as you use them.
For your compost pile use the Biodynamic Compost Preparation Set.  The other Preparations are used as garden and field sprays.  See our Storing and Using page for amounts and how to use each Preparation.
Our Compostable Packaging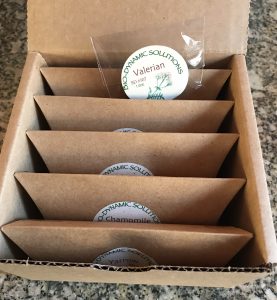 We searched for acceptable packaging materials and are pleased to have found 100% compostable packaging.  We could never send out these cosmic materials in anything else.
Ceramic crocks of the Biodynamic Compost Preparations, Biodynamic Compound Preparation and Horn Manure are stored in a wooden boxes and surrounded by peat until they are ready to be sent to you. Then we place the unit of Preparation in a compostable bag, seal it and put a compostable label on it. Each is once again surrounded by peat in a recyclable pillow box and then placed in a cardboard box and shipped to you.  This takes extra time, but we feel that it is very important to package these cosmic products to retain their vitality until you use then.
If you are unable to use the Preparations upon receiving them leave them in the peat and cardboard box and place it in a dark, cool place.
Shipping
We ship via USPS in Flat Rate Boxes in order to get the Preparations to you efficiently and in the most economical way.
Most orders ship for $16.25 in a Medium Flat Rate Box.
If your order requires a Large Box(es) we will notify you of the additional shipping costs, before sending your order.
If we are able to ship your order for less, we will refund you the difference.
Alternatively, you may choose to pick your order up at our farm in Peterborough, NH.
YOU CAN ORDER YOUR PREPARATIONS NOW TO INSURE THAT YOU GET WHAT YOU NEED, AND WE WILL SHIP THEM WHEN YOU NEED THEM.  Just tell us when you would like us to ship them in the notes section of the order form.
Questions?  Visit our Frequently Asked Questions page, if you do not find your answer there please contact us.
We look forward to serving you as you care for your farm and gardens.